Being #matteorenzi
Claudio Giunta's new book, Essere #Matteo Renzi (Il Mulino, 2015) is the most recent of a long list of scholarly books about the young Italian Prime Minister–after the earlier pamphlets which were lighter and generally celebratory in tone–which fill the shelves of Italian bookshops and contribute to what could almost be called a new genre. The title of this book hints at the main issue, which each of the eleven chapters deals with to different degrees of depth and explicitness. The title, in fact, paraphrases Negroponte's Being Digital (Knopf, 1995), a bible for Internet researchers, while parroting 'Being John Malkovich', a film which critiques the idea that ordinary people can wrap themselves in a cloak of fame. Giunta analyzes two essential ontological aspects of the Renzi phenomenon. The first is the idea that "things" and "facts" become increasingly evanescent, or evaporate altogether, under the spell of Renzi's communicative skills  (like Negroponte's atoms transformed into bytes). The second  is the plastic nature of the political leader's identity, its ability to mold itself to the identities demanded by those whom some have called the 'look at me generation'.
The author opens the book with an autobiographical note. His personal eureka moment with Renzi took place in Trento, where he teaches, and involved one of Renzi's first public walkabouts after becoming Prime Minister. When he decided to make an impromptu appearance at the popular Economics Festival, Renzi's unplanned speech took the "sleepy city" by storm and outshone most of the other invited speakers, including such personalities as Fiat Chrysler CEO Marchionne. Giunta's anecdote serves as a narrative device to catapult the reader right into the heart of the analysis, which aims to investigate Renzi's identity, his rhetorical style, and communication skills fully. With a sudden shift in register, the author moves from the description of the event to an analysis of the rhetorical structure of Renzi's discourse. The author credits Renzi with a marked ability in the rhetorical style of surenchère (re-launching), that is, answering a specific question with a wider question, shifting the focus of the question from a specific issue to a wider topic, in order to avoid answering the interviewer's question and leave the interpretation of his answer open. (D. Who do we want to lead the European Union? R. The question is not who we want to lead the EU, but what we ask the future president to do, and we are asking him to…). At the Trento Festival, Renzi transformed his brief appearance into a one-man show, turning the tables at the end of his speech by interviewing the well-known TV anchor Mentana, asking the journalist questions about how he himself saw Italy in the future. Mentana felt obliged to answer.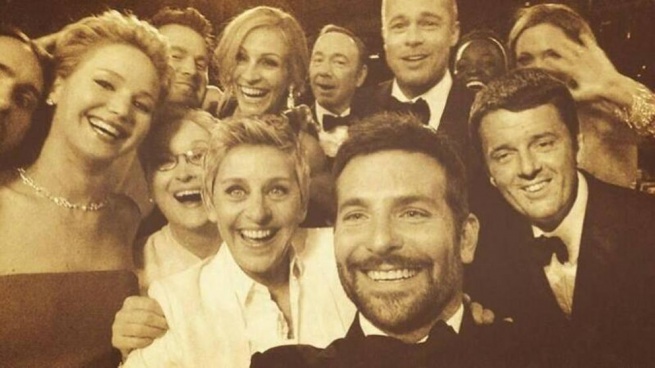 Ironic photomontage of Matteo Renzi infiltrated selfie of the Academy Awards 2015. Immage Corriere.it
This story serves to raise the profile of the book from a merely linguistic 'discourse analysis' to an ontological treatise as indicated by the title. The episode lends credence to Renzi's idea that "things" do not exist in themselves but become what we require them to be. Nor, in this view, do "facts" exist, There are only interpretations of facts, and, in Renzi's words, "only story-telling counts." The book thus sinks its teeth straight into the debate of the day: whether to follow those who believe, consciously or unconsciously, in the decline of postmodernism, or whether to support those who think this is the age of a new realism. It is ironic that Renzi's sudden rise to power took place at the exact time when the philosopher Maurizio Ferraris (though not quoted by Giunta) filed article after article in the national press repeating a new mantra which, in his view, would soon replace the 'weak thought' of postmodernists. This great paradigmatic shift in contemporary philosophy, translated into the squalid sphere of Italian politics, claimed that Berlusconi's demise, after twenty years in power during which "facts" were systematically deconstructed and politics was reduced to spectacle, would lead to a return of tangible, objective, unchangeable reality. Paradoxically, Ferraris's prophesy was never fulfilled precisely because Matteo Renzi rose to power so quickly. In fact, Renzi's communicative skills were even more effective in weaving new narratives than Berlusconi's used to be. Moreover, external reality has been even more susceptible to the message. Giunta uses the concept of story-telling in a non-technical way. It is the triumph of interpretation over the cogency of facts.
The third chapter brings us back to the ground. Giunta analyzes Renzi's linguistic style. The author states that Renzi speaks Italian imperfectly, choosing a low-brow register, and that his English is terrible. Apart from his use of puns, Renzi's rhetoric is based on "truisms". That is, he says things that are obvious, and by doing so exploits the empathetic force of common sense. And yet, Giunta points out, his statements of the obvious are never just that. Renzi's rhetoric – often compared to the  advertising campaigns of the Freccia Rossa high speed trains – depends on euphemisms, sweetening the pill of what he has to say in order to make it compatible with his eschatological vision (based on the key value of hopefulness). Speaking about the operation to save immigrants at sea called Mare Nostrum, shortly to be closed down for lack of funds, Renzi stated "If a child risks his life, we will save him", thus glossing over the crude reality of immigrants drowning in the Straits of Sicily and replacing the image with the more consolatory narrative of a child being saved.
Giunta's investigation is particularly valuable when he examines and evaluates one of Renzi's key concepts, which politicians and the business community adopt blindly. This conceit is that there is an inexhaustible seam of beauty and creativity, Made in Italy, which represents an unlimited source of wealth and sustenance for the country's citizens. In other words, Giunta critiques, in a detached and clear-eyed manner, the idea that the 'Made in Italy' myth is a key resource of the national economy and culture. In this analysis, Giunta  hits a nerve which reveals the fragility of national policy making. Until recently, in fact, Renzi's postmodern communication strategy stressed "interpretation" as being more important than "facts". Now, by contrast, he finds himself having to transform merely subjective "interpretations" – at most clichés made available to the international public - into "facts". The idea of an Italian genius loci is thus shown to be empty. The notion combated by most contemporary anthropologists that there is such a thing as a specifically national talent no longer holds.
Giunta's style is light-hearted, but he deals with issues that are complex and profound. He succeeds in demolishing a dangerously intuitive concept: that the 'Made in Italy' brand represents the heart of the country, a deeply rooted and solidly based core, its essence buried in the belly of the nation. In Giunta's words, "Renzi has no doubt that there is a genius loci, but he feels it has dozed off, and is waiting for the right moment, the right man, to bring it back to life and generate a new Renaissance." Renzi's conclusion, Giunta argues, is that "All we need to do is be ourselves." In the most significant passages of the book, which is as easy to read as a pamphlet, Giunta cites an imaginary snobbish friend, a formula he adopts to warn Renzi about the vacuity of some of his positions. In this case, the snobbish friend suggests that an economic model based on the high market value of luxury goods and on cultural tourism would be "stifling for Mykonos" let alone for a "country with 60 million inhabitants". Italy, the author's friend claims, should not content itself with becoming a "country of waiters".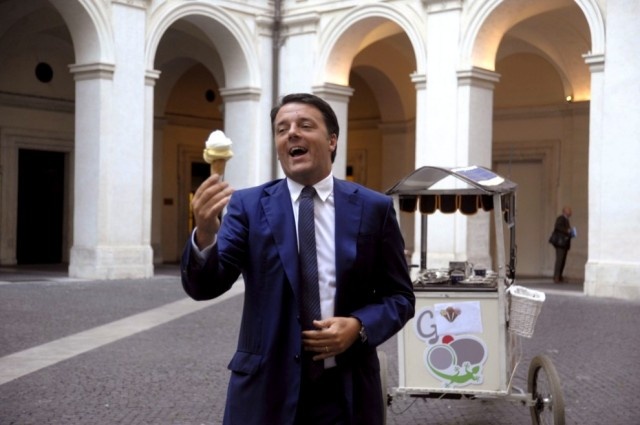 The lapse in logic in Renzi's rhetoric is still more evident when his claim that the 'Made in Italy' myth is a fact is transformed into a reification of Italian-ness itself. This is the difference between the founding myths of other European countries (French grandeur, hispanidad, the German Reich) and the typically Italian myth based on a pride in being, on a soft power that is typically national and that "does not manifest itself in war time but post-war, not in tragedy but in post-tragedy." The critic's caustic appraisal reaches its zenith when he cites Guido Calogero, thus closing the circle between past and present, given that, in the great philosopher's view, the main Italian talent lies in the "incommensurable capacity to live in fiction." Citing a popular song by Giorgio Gaber which plays on the theme by turning it upside-down when he claims to be anti-Italian, Giunta accuses the singer/songwriter of  falling into the trap of describing a quality of 'Italian-ness' that is worn out and retrograde.
Giunta goes on to dismantle the main founding myths of the Made in Italy stereotype, starting as far back as the Renaissance, which, he claims, was fueled not only by Italians and which the rest of the world taught Italians to appreciate. Another myth he deconstructs is that of the economic boom of the 1950s and 1960s, which recently replaced that of the heroic Resistance of part of the country against Fascism, no longer considered relevant. The great leap forward in Italian development has been valorized and mythologized, Giunta claims, just as the country continues to sink into a period of economic downturn and depression. He also bravely tackles the "heroes" in the narrative of the epic expansion of Italy's economic power. Giunta's first victim is Adriano Olivetti, who has recently been the subject of a fairly hagiographic television docudrama. Renzi, Giunta claims, places Olivetti at the center of his personal pantheon because, in Renzi's view, the mind behind the innovative Olivetti products symbolizes the modernism, speed, and aerodynamics of the 1960s. It is, Giunta concludes, a "paradoxical nostalgia for the future". At center stage in the Leopolda Conference Center where Renzi first unveiled his political ambition, a Vespa scooter – the symbol of symbols of Made in Italy – was parked.
Renzi is unlike other protagonists in the Italian political arena. While Berlusconi and Grillo, the comedian turned political leader, hide a deep sadness behind their assertiveness, Renzi appears totally positive. He definitely belongs to the category of over-achievers, but he is not, in Giunta's view, condemned to living "an arid life, devastated by stress, solitude and guilt." In fact, he exhibits a full and more than satisfactory life, filled with positive human and family relationships. There is no obvious or concealed "dark side" that characterizes almost all powerful men, from Giulio Andreotti, in Italy, to Dart Fener or Francis Underwood in fiction. He is totally visible and transparent to himself and others: " a sunny, light-hearted, counter-reformist version of a perfect Catholic." And yet, Giunta argues, this harmonious and non-problematic psychological portrait does not always square with Renzi's need to express himself by means of a "reactive rhetoric". Renzi considers conflict a waste-product of political activity. In Giunta's words,  a "deviation of the natural order of things." And yet, as the author points out, "conflict is a necessary product of associative life."
What Giunta perhaps omits is that Renzi's enemies are not generic enemies - the Cassandras or those who bet against his success. Renzi's strategy for taking over the Premiership clearly saw his enemies as those within the perimeter of his own party: members of the Democratic Party who voted against his policies, academics with opinions, magistrates, and, above all, trade union leaders. In other words, as I pointed out in my own book Brand Renzi (Egea, 2014), Renzi does not create a dichotomy between friends and enemies in the Schmitt Tradition. His meta-branding strikes dissidents from within the Party with "friendly fire" thereby accrediting himself with a much wider electorate.
Renzi's tactic of fighting conflict by creating conflict shows that, unlike Berlusconi, Renzi cannot be palmed off merely as a product of a postmodern culture (although Giunta never uses this interpretative model he alludes to it constantly in his analyses of Renzi's communication strategy). While Renzi is intoxicated by the so-called 'Californian ideology', his values are those of an average Italian: he believes in family, territory and religion. At the same time, his feisty approach, similar to Napoleon Hill's idea that "If you can conceive it and believe it, you can achieve it," has shown marked pragmatic, rational and tactical skills, well demonstrated during the presidential elections. Even his much debated story-telling abilities, which Giunta focuses on in his book, are not based on typical Italian stereotypes. They are an attempt to reconstruct a bond of empathy between himself as a politician and his electorate. This bond has been severed for too long by the self-engrossment of Italian politicians and by the vehemence of the perfectly legitimate claims of anti-political movements.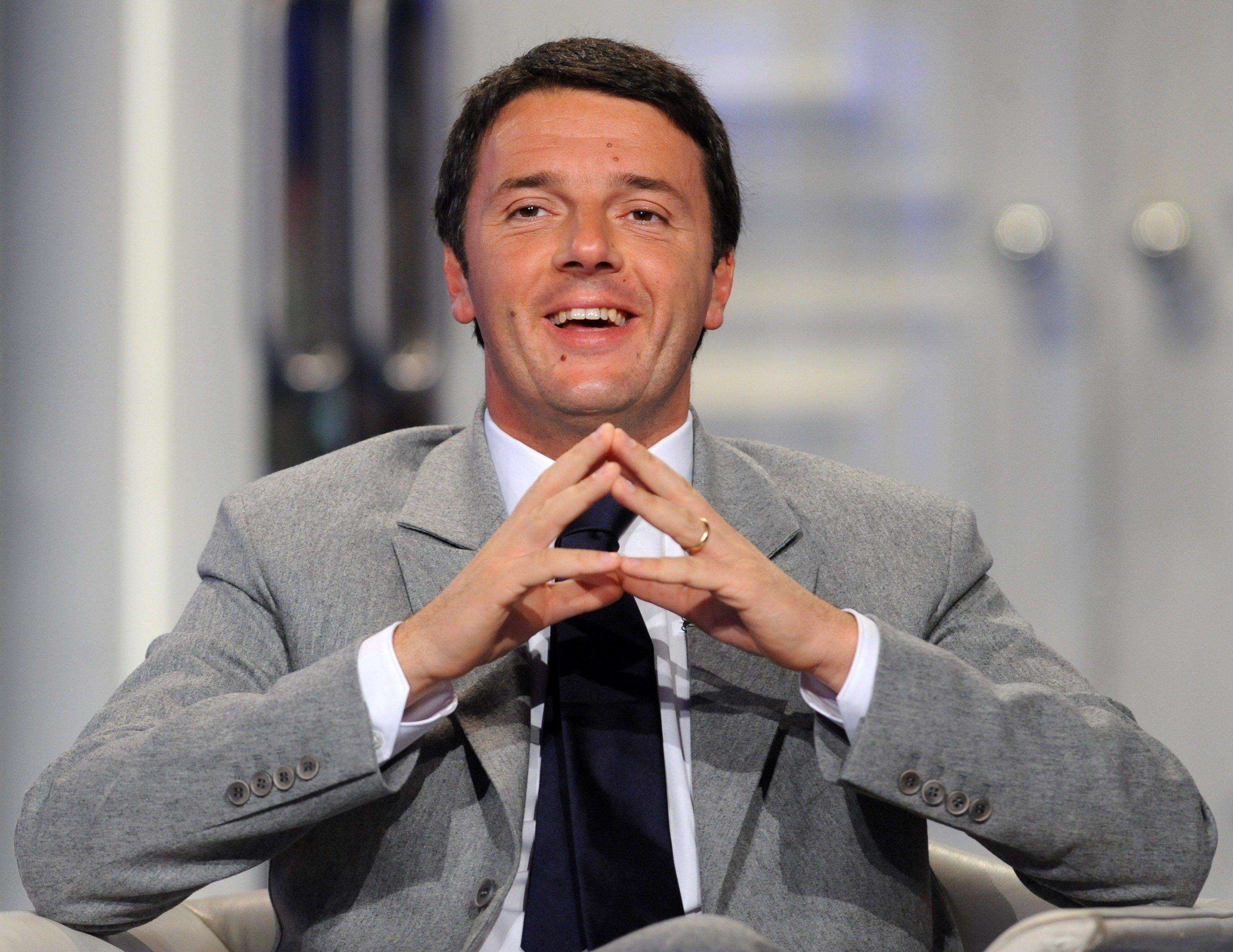 If we continue to keep this space alive it is thanks to you. Even a single euro means a lot to us. Come back soon and
SUPPORT DOPPIOZERO